What is the new Lionel Messi hold my beer? Curious about the latest buzz surrounding Lionel Messi? Wonder no more! Learn all about the new 'Lionel Messi hold my beer' celebration and its intriguing significance.
The Argentine football sensation, Lionel Messi, has quickly left his mark on the MLS with a remarkable performance, netting three goals in just his initial two matches. Moreover, following Inter Miami's triumph against Atlanta United, Messi unveiled an innovative celebration, adding to his already illustrious legacy in the sport.
Lionel Messi new "hold my beer" celebration meaning
MLS welcomes the Messi era
Inter Miami's fortunes have taken an incredible turn under the influence of Lionel Messi, as they secured an impressive 4-0 victory against Atlanta United in their recent Leagues Cup match. Adding to his brilliant game-winning free-kick against Cruz Azul the week before, the Argentine superstar delivered once again with two goals and an assist.
The addition of Messi to Inter Miami's roster was a significant move for the team, marking a statement signing for Beckham and the management. With Messi and Sergio Busquets now on board, the Floridian team's transformation has been nothing short of remarkable, especially considering they had only managed one victory in their last ten matches.
Messi dedicates celebration to Beckham
In a Twitter video shared by ESPN FC, Lionel Messi expressed his jubilation after scoring against Atlanta by pointing to the sky and then making a meaningful gesture towards Beckham, who was observing the match from the sidelines. This heartwarming moment highlights the deepening connection between Beckham and his star player.
Beckham played a pivotal role in persuading Messi to join Inter Miami following his departure from Paris Saint-Germain. As a testament to their strong relationship, Messi was bestowed with the number 10 jersey and the captaincy for Inter Miami. The two were caught on camera engaged in conversation at the PSG training facility. It's worth noting that Beckham had previously spent time with the Parisian club after his stint with the LA Galaxy in Major League Soccer.
Inter Miami's promising progress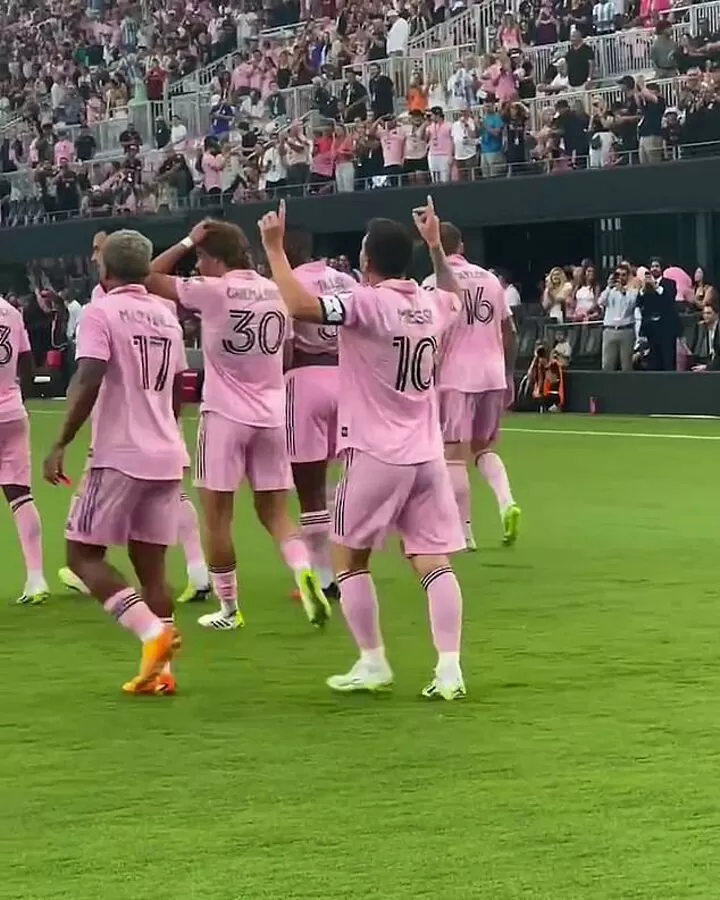 For the revamped Miami club, progressing to the round of 32 holds immense importance as their initial milestone. Presently, they find themselves at the bottom of the Eastern Conference standings, prompting Beckham to replace Phil Neville, a former Manchester United teammate, as their head coach. Taking Neville's place is Tata Martino, an Argentine who achieved MLS glory with Atlanta United in 2018 and has now joined forces with Messi. Notably, Messi has prior experience with both the national team and Martino, having been managed by him during his one-season tenure at Barcelona.
Beckham and Messi's immediate focus is on achieving success in cup competitions. In the Leagues Cup, which involves teams from the Mexican Liga MX and the MLS, they have progressed to the round of 32 after securing victories over Cruz Azul and Atlanta. Despite their struggles in the league, they have also managed to reach the semifinals of the US Open Cup, a prestigious championship for American professional sports clubs.
Following Messi's official MLS debut against Charlotte FC at the DRV PNK Stadium on August 20, the team will gear up to face the table-topping FC Cincinnati in the semifinals on August 23, seeking a result fueled by Messi's extraordinary abilities.
Conclusion:
In conclusion, the 'Lionel Messi hold my beer' celebration has captured the attention and excitement of football fans worldwide, adding another chapter to the legendary career of this Argentine superstar.